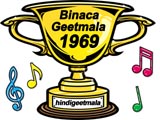 Some interesting statistics about annual list of binaca geetmala for the year 1969
This year, 36 songs make it to annual list. The music for these 36 songs was provided by 10 different music director(s). Out of 36 songs, Laxmikant Pyarelal composed the music for 11 songs, followed closely by Shanker Jaikishan with 8 songs. Naushad, Kalyanji Anandji, O. P. Nayyar, and R. D. Burman gave music for 3 songs each, while S. D. Burman provided music for 2 songs. Ravi, Roshan, and Chitragupt composed the music of one song each.
As far as lyricist are concerned, there were 13 different lyricist involved with Anand Bakshi, and Majrooh Sultanpuri sharing the top spot with 8 songs each. Hasrat Jaipuri with 6 songs, Rajinder Krishan and Indeevar with 3 songs each followed. Eight lyricists, namely, Gulshan Bawra, Kavi Pradeep, Neeraj, Prem Dhawan, S H Bihari, Sahir Ludhianvi, Shakeel Badayuni, and Shevan Rizvi had written the lyrics of one song each.
Lata Mangeshkar was topmost singer with 12 solo and 9 duets, singing a total of 21 songs out of 36. Mohammed Rafi gave his voice to a total of 15 songs, out of which 7 were solo and 8 duet song (one song 'Tum Bin Jao Kaha" had two different variation by Kishore Kumar and Mohammed Rafi, and has been counted as duet for statistical purpose). Other singers were Mukesh with 6 songs (3 duets), Kishore Kumar with 3 songs (2 duets), Asha Bhosle with 2 songs (both duets), Suman Kalyanpur and Shamshad begum with 1 song each (a duet in both cases) who features in the above list of 36 songs.
Further, there were a total of five films, which had two songs each in the annual list. These films were "Aradhana", "Jeene Ki Raah", "Prince", "Pyar Ka Mausam", and "Saathi". Then there were 26 other films having one song each being featured in annual list of binaca geetmala, 1969.
Some popular songs from year 1969 which didn't make it to annual list of binaca geetmala
Here is a list of some of popular songs, which failed to appear in annual list of binaca geetmala for the year 1969. The list of songs is mostly from the movies, from which at least one song appeared in the annual list. I am not aware of any reason for this. If any visitor to our website knows any interesting fact about the same, please share here by way of comment. You are also requested to mention any song from 1969, which you think was popular enough to make it to annual list.
Mere Pairon Me Ghunghroo Bandha De
Roop Tera Mastana Pyar Mera Diwana
Phool Tumhe Bheja Hai Khat Me
Chandan Sa Badan Chanchal Chitwan