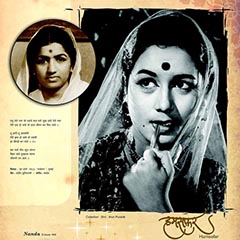 Lata Mangeshkar in her calender "Humsafar" about Nanda:
Nanda was the loving 'Choti Behan' of Hindi Films. She is a talented actress.
When I first saw her, she was a six month old baby and I was twelve and a half years old. My father, Master Dinanath Mangeshkar passed away in 1942 in Pune. I used to work as a child artist for Praful Pictures of Master Vinayak. I used to adore this little sweet daughter of Master Vinayak. I used to dress her up. Soon, Master Vinayak went to Kolhapur and then in 1945, came to Mumbai. We accompanied him.
The mahurat of Master Vinayak's film Mandir was completed in Mumbai. In this movie, Nanda has played the role of my younger brother.
On 19th August 1947, Master Vinayak passed away. This was a great shock for us leaving our families in disarray and the film incomplete. I had to find some work to make the ends meet. I now had the responsibility of my siblings on my shoulders.
V Shantaram helped out Nanda and her family in this situation. He gave her an opportunity in the movie Toofan Aur Diya. Nanda gained popularity and success due to her hard work and talent which is praiseworthy.
Nanda worked with most of the leading actors of the day. Later, she worked as a character artist. I have given her playback for many songs. Choti Behan, The Train, Jab Jab Phool Khile are some of the memorable films for which I have given playback to her. My favourites are the two bhajans from the movie Hum Dono, Allah Tero Naam and Prabhu Tero Naam. Nanda enacted these songs wonderfully on the screen and these songs have become memorable.