Lata Mangeshkar sung for C. Ramchandra - List of Most Popular 10 songs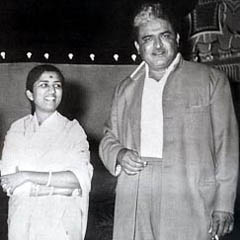 Lata Mangeshkar in her calender "Tere Sur aur Mere Geet" about C. Ramchandra:
I sang for C Ramchandra during the early period in films like Khidki, Shehnai, Nadiya Ke Paar. After that, I sang for him on a consistent basis. The speciality of C Ramchandra was his simple, melodious songs. His songs were immensely popular during those days.
Aye Mere Watan Ke Logon is simply unforgettable. This song written by Poet Pradeep, on the background of the 1962 China War and glorifying the contribution of the Indian soldiers, was to be sung by Asha and me. But the music composer C Ramchandra insisted that this should be sung only by me.
I prepared for this song from a tape in his voice and presented this song to the audience in New Delhi. This ceremony was to honour the martyrs and was attended by the erstwhile Prime Minister of India, Pandit Jawaharlal Nehru. On hearing this song, Panditji was overcome by emotions, a fact now known to many.